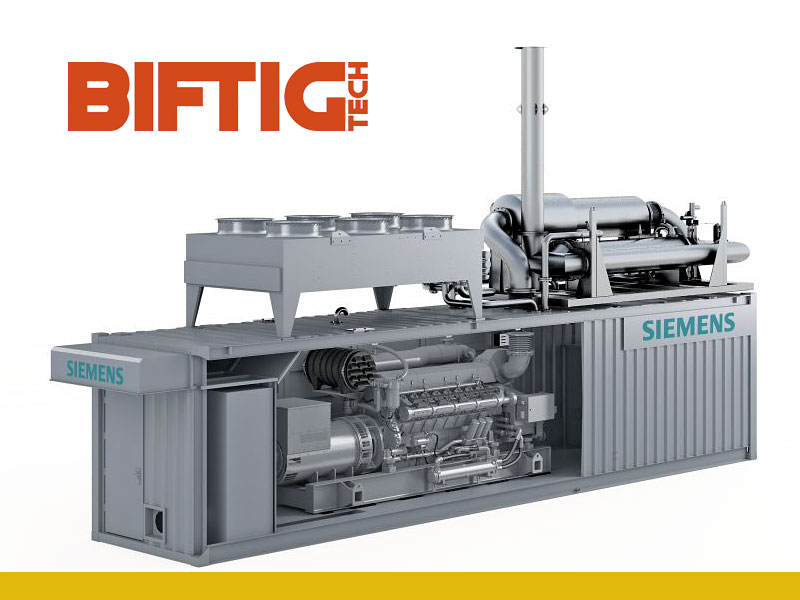 BIFTIG TECH Flexi-Gas Fueled 1.1 Mw Genset
Power Generator Modules Engine by Siemens SGE 56 SL and SGE 56 SM: 788 kWb to 1,100 kWb.
Plug and Play
Any type of gas fuel source
Natural gas, Flaregas, Wellgas, Syngas, Landfill and Sewage gas
Containerized
Mobile
CHP capable
Fast setup times
Minimum maintenance cost
Siemens powered, SGE 56 SL and SGE 56 SM: 788 Kwb to 1,100 Kwb
The BIFTIG TECH Flexi-Gas genset power module is designed specifically for alternative fuels:
Self contained rental friendly ISO containers.
Tailored to client´s unique gas specifications.
The BIFTIG TECH module is powered by an SGE engine, Siemens controls and switchgear for a state of the art, ultra reliable package.
Ideal for power generation. The SGE-L /M series gas engine has an output range from 788 kWb up to 1,100 kWb. 50 Hz or 60 Hz. Whether fueled by Flaregas, Wellgas or Syngas the SL series is the most cost efficient choice on the global market.
Suitable for different compression ratios:
8:1 for well gas, propane and LPG up to 60%C3_40%C4
9,3:1 for torch gas, woodgas, syngas or bad quality natgas
12,3:1 for commercial natgas and biogas
In all previous configurations it is possible the option FUEL BLENDING where the genset is able to operate (without stopping) with two types of gases (propane and well gas for instance) by using first at 100%, the second at 100% or all possible mixtures of both gases.
Suitable for emissions compliance with or without catalytic treatment.
The CHP option converts the traditional power module into a multi energy revenue stream. As well as an ultra-effective emissions abatement tool.